WACO Pakistan member WWG Consolidators recognised with top customer award
Karachi, Pakistan, Monday, 15th May 2017 – WWG Consolidators Ltd (WWGC), the WACO member for Pakistan, has been recognised with the 'Top Customer Award' by International Airlines Group (IAG).
The WACO System, an exclusive global freight network for independent freight forwarders, appointed WWGC as its member for Pakistan in October 2016.
"This achievement reflects the company's firm stance in the local market, and ensures that WACO members know that they are dealing with a reputable network partner in Pakistan," said Hassan Madni, Director of Corporate Business Development, WWGC.
The accolade comes after a long and rigorous assessment process by IAG Cargo, which rewards companies annually for excellent customer support throughout the peak and lean seasons.
IAG had monitored the carrier's internal systems, agent support programme, and the overall coordination between WWGC and its customers.
WWG Consolidators was found to have exceeded in all its monitoring key performance indicators (KPI)s.
"It is wonderful to have WWGC recognised in this way, and by such a trusted organisation as IAG," said Richard Charles, Executive Director, The WACO System.
"Pakistan has a rapidly growing economy, which is of great importance to our members, and we are delighted to be working with such a well-respected company."
Headquartered in Karachi, Pakistan, WWGC was founded in 2008 and offers a wide spectrum of supply chain services globally, including airfreight and warehousing, out of Karachi, Lahore, Sialkot, Islamabad, and Peshawar in Pakistan.
IAG visited WWGC's corporate offices in Karachi, Pakistan, to present the award officially in May 2017.
The WACO System has 112 members in 109 countries and holds two meetings a year facilitating hundreds of bilateral meetings for members to network and grow business.
For more information on The WACO System visit waco-system.com, and for more information on WWG Consolidators (WWGC) visit wwgc.com.pk
Ends
To download this article as a PDF click here for Word click here
Pictured left to right: Haseeb Akram, General Manager, GSA-BA, Lahore, Pakistan, Rashid Paracha, Country Manager, BA, Islamabad, Pakistan, Sajjad Azam, Group Commercial Head, WWG Corporate office, Karachi, Pakistan, Hassan Madni, Director, Corporate Business Development, WWGC, Karachi, Pakistan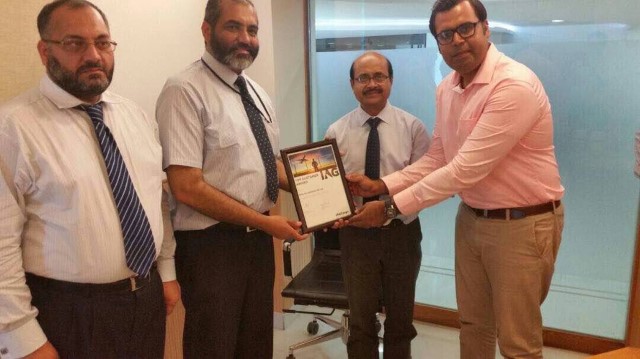 ABOUT THE WACO SYSTEM
Founded in 1973, WACO is the world's foremost independent global freight management and logistics organisation.
WACO has a community of 112 members in 109 countries with a combined network of more than 400 locations, employing over 21,000 freight professionals who handle over 1.85 million shipments each year including one million tons of airfreight.
The exclusive network has a combined annual turnover of USD four billion.
The company is an Association owned by its members with its Corporate Head Office in Zurich, Switzerland, and operational management in London, UK.
More about WACO here
About WWG Consolidators (Pvt) Limited
WWG Consolidators, an independent and private logistics company based in Karachi, Pakistan, providing innovative logistics and supply chain solutions to its clients and partners locally and around the world.
WWG Consolidators seeks to provide customized services to its clients – seeing to their logistics needs in a cost-effective way and allowing them to focus on their core businesses.
More about WWG Consolidators here